Please download the PDF file for your registered race:
For all running events:
$50 – individual 18+
$5 – student
$100 – Team Marathon (4 people)
$250 – International Entry (for any race – including bus)
Hydration and cheer stations
There will be four water stations along the course where water will be available.
That's every 8km, so it is VERY important that ALL athletes carry their own water and hydration packs. This is a TRAIL RUN, not a road race.
If you have support groups (a.k.a. family and friends) who would like to cheer for you on the day, we encourage that you tell them to join a particular hydration or cheer station along the course.
Toilet and parking facilities
This is a TRAIL RUN and there will be very limited facilities/resources along the route.
Toilets are available at the 10km start, at one of the water stations on the 10km course (Gasaudrau Farm) and at Namosi Eco Retreat.
Parking will be ONLY available along the road at 10 km start.
If possible, please do not bring your vehicle if you are running the full or half marathon as race briefing will be conducted on the bus on the way up to the start of both races.
If you have friends & family that want to drive up to cheer you on please ask them to come to the 10km start.
Bib pickup & Registration Payment
You MUST pick up your number, and make payment if you've not paid online, at the RACE NUMBER PICK UP at MANA Coffee on 30th June 2023 between 2pm-6pm.
If you are unable to pick up your race number, please arrange for someone to do so on your behalf.
For those running the full and the half marathon, a bus will be provided ($30 per person). 
Please make payment at the same time as the race number payment – preferably online, or via the M-Paisa App (Search for Suva Marathon Club under the "Payments" tab).
There will be no race number pick up on the day. You must have picked up your race number before the event.
For all INTERNATIONAL Full and Half runners, please ensure you have paid via the payment portal below; it is important that you have paid prior to picking up your race numbers on Friday: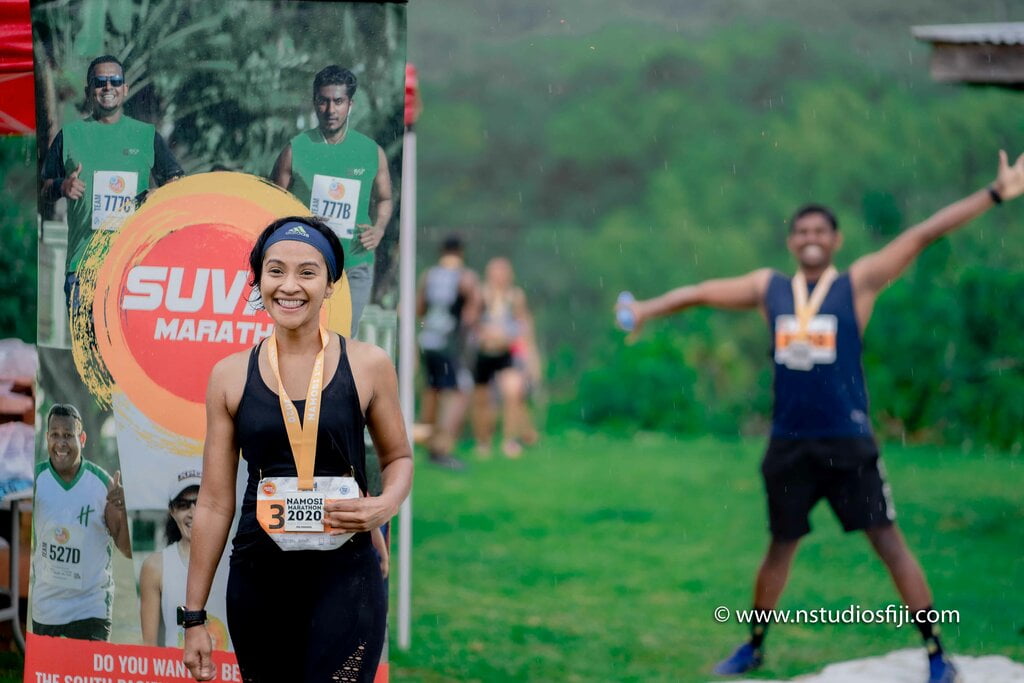 Full & Half Marathon Race Reporting Times
4.30am SHARP : Bus will depart for Namosi
All athletes will be required to check in at MaxVal-U (Superfresh) in Tamavua, Suva at 4.15am. Buses will then transport athletes to the start of the race.
Estimated departure time from finish line for return transfer to Suva is 11.30am.
The Namosi Marathon 2023 will be Fiji's first trail running event to include Full and Half Marathons and a 10k race.
5.30am – Full marathon Start
6.30am – Half marathon Start
7.00am – 10k Start
The Namosi Marathon 2023 will have a Race Number pick up and everyone should come and pick up their race numbers, information kits, and goodie bags (for full marathon runners only) from 2pm – 6pm @ Mana Coffee, Suva on the 30th June 2023. 
Race day is on 1st July 2023 starting with pick up at Max-ValU (MH Superfresh) in Tamavua, Suva at 4.15am. Buses will then transport athletes to the start of the race.
You can find the course maps as well as other participant information on this page.
Suva Physio Centre and the Volunteer First Responders have kindly sponsored to organise a team comprising of physiotherapists, doctors, first aid and other medical personnel.
The main medical station will be located at the start of the 10km race.
Please bring your own snacks for the event. Water will be provided.
They will have roaming medical teams along the course, and an ambulance will be on standby in case of emergencies.
All 10K Race athletes must have their own transport to the start area at Namosi Secondary School. We encourage car pooling or corporate buses.
-18.05175,178.118456
You may wish to stay the night before at Namosi Eco Retreat so you are closer to the race start.
If driving from Suva please drive along the Queen's Rd (not through Sawani /Naqali) so as to minimise traffic on the course itself.
The turn to Namosi is the Namosi Road where there is a sign for Kila Eco Park. Turn up that road and you'll come to a junction with the main ridge line road. Turn left towards Namosi village and Namosi Secondary School.
You'll need to leave Suva by 5am to ensure you get to the start in time.
Charity Partner -
Cure Kids Fiji
Suva Marathon Club have partnered with local charity Cure Kids Fiji to help raise funds for vital child health programs in Fiji. If you would like to learn more about this partnership, please follow the link: https://namosimarathon2023.raisely.com
After Party @ Namosi Eco Retreat
F$30 post race brunch at Namosi Eco Retreat.
Relax in the river! BYO drinks. Stay the Night
#There will be music DJ entertainment all throughout the day.
Please bring your own:
Alcohol
Drinking Water
Towels
Torchlight
Manakwa Saka
Danny –  7779099
Here's some great deals from Danny and Jaqui:
$30 per person package includes:
bring own tents for camping
bring own refreshments
$10 per meal (pre-ordered)
$249 for a solo, couple or family with up to 3 kids (aged 12 and below) includes:
 $95 per person for a group booking of 5 (maximum) includes:


Also on the night:
Large Bonfire
Meke Performances
Sigidrigi serenading you through the night